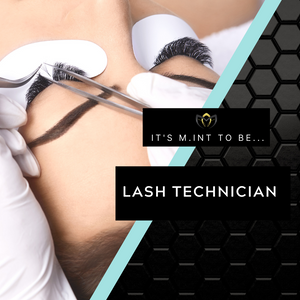 Why choose 

M.INT

 Lashes Pro Academy for your lash extensions education?


M.INT has smaller and more intimate class sizes - even one-on-one training is available - which ensures that you, the student, are provided a more personal, detailed, and attentive training.  This means that the trainer can see your progress and help you personally when needed as larger class sizes can get overwhelming.  You will be receiving a comprehensive curriculum with extensive information and guidance to launch yourself into a career in the lash industry.  With the training program follows a two week practicum (Edmonton and Williams Lake only) that will elevate your experience and assures that you get the best out of your training.

After the courses, you will have access to continuous mentor-ship and support through a community of fellow lash artists, so you are always within reach of great advice and updated tips and tricks.
As a bonus, you will also receive a lifetime discount on products and supplies that you know you can trust!


Online Theory Hours - 20 hours

Online course curriculum starts two weeks prior to prepare you for in studio training.

In class Hours - 36 Hours

Theory Outline

In our NALA accredited course, we teach you:
Classic Fundamentals
Advanced Volumes
Lash Lift 
Tinting Eyelash and Eyebrows
Brow Lamination - FREE COURSE!
Online Business Building Certification Course - FREE COURSE!
You will receive:

All products are supplied by M.INT Lashes - 

M.INT Lashes PRO Kit

, 

Volumes Kit

 & 

Lash Lift & Tint Kit

As a BONUS you'll receive a FREE Moonlight lamp

Lifetime mentor-ship

Entry to our graduates community

20% off all M.INT Lash products

Four Individual certification for each program

A M.INT Master Eyelash Technician Recognition
This 5 day course takes you through the online manual presentation with practical hands on with a M.INT educator, it includes hands on demos, videos and reading assignments. You will work on your mannequin for the duration of the course and the second half of the day you'll working on your model.

Online course curriculum starts two weeks prior to prepare you for in studio training.
Your educator will be there for you every step of the way

Are you ready to become M.INT?