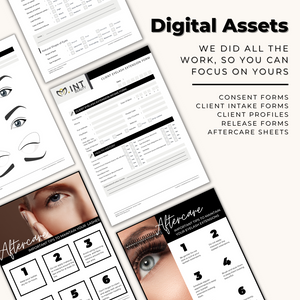 Running a lash artist business can be incredibly rewarding, but it's not without its challenges. Successful lash artists know the importance of having all their paperwork in order, including signed waivers and detailed profiles for their clients. This not only serves to protect your business in the long run but also shows your clients that you take your profession seriously.
By prioritizing the organization of your necessary paperwork, you can focus on your passion for creating beautiful lashes without having to worry about any potential legal issues. Don't let disorganization hold you back – keep your business running smoothly and professionally with the right paperwork.
Download important client PDFs including intake forms, client profiles, and aftercare sheets. Its as easy as uploading them to a PDF editor or printing them off.
You'll have one year access to your forms and keep checking back as we're always updating and adding new forms. Our bundle includes everything you need for Eyelash Extensions, Lash Lift & Tint, Brow Lamination & Tint, Release Forms and Store Policy.
Eyelash Extensions:
Intake Form
Consult Form
After Care Sheets
Lash Lift & Tint/Brow Lamination & Tint:
Intake Form
Consult Form
After Care Sheets
Administration:
Photography Release Form
Store Policy
* These waivers are not guaranteed protection against potential legal action