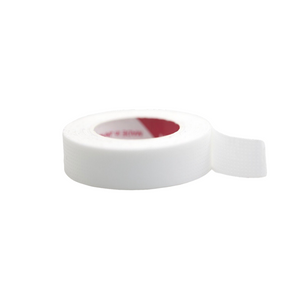 This new FLEX tape is our new go-to staple! Not only is it hypoallergenic and latex free, but also super soft and flexible which is perfect for lashing, ensuring as much comfort as possible for your clients.

Use this tape to cover the lower lashes and be confident enough to secure eye pads from shifting as this tape will not budge during lash application.  An extra bonus is that this tape can withstand any clients with medium oily skin!  Plus with it's opacity, you can better see your client's lashes with any lighting, low or bright!
This tape can conveniently and easily be cut or sectioned by hand, so you don't need to fumble with a tape cutter or scissors. You can be rest assured that the Flex tape won't pull on your client's skin upon removal or cause any skin irritation as it has a gentle adhesive.

With all these benefits, this new FLEX tape should quickly find it's way to being your new favorite tape!