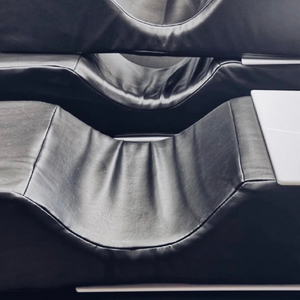 This duo pillow & shelf is a game changer. Work with ease and comfort with everything at your fingertips. No more worrying about dropping your tweezers and you now have a place for all your supplies. Works well at clients head level with no fatigue.
This pillow & shelf fits most massage size tables roughly about 26 inches wide with the tray.
Pillows are made with memory foam with easy to clean synthetic leather covers. We recommend putting a disposable towel down between each client followed by disinfecting. The pillow also has two neck curvatures. We recommend using the lower curvature of the pillow facing towards the client for more stability and comfort. Your clients will love it, in fact they will fall asleep.
The shelf is made out of strong acrylic for right handlers. We recommend using any disinfectant wipes to wipe it down and you can safely use acetone to clean off any unwanted adhesive that may come in contact with the shelf and it won't harm the plastic at all! .
Pillow and shelf sold separately.