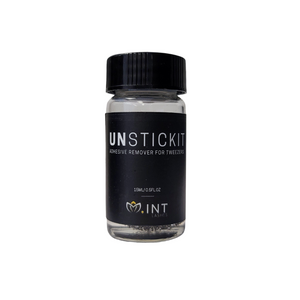 Say goodbye to frustrating lash adhesive on your tweezers with our revolutionary product. With just a few simple steps, you can easily remove adhesive from your tweezers and avoid interruptions in your workflow. No more sticky situations! Our easy-to-use formula provides hassle-free clean-up, so you can focus on delivering flawless results to your clients. UNSTICKIT is the perfect addition to any lash artist's arsenal. Get your hands on UNSTICKIT today and elevate your lash game to the next level!
Direction Of Use:  Simply submerge the ends of your tweezers in a bottle of glue and give them a wiggle for a few seconds. After removing them, just wipe them dry and you're ready to get back to work. Say goodbye to sticky tweezers and frustrating work interruptions with this easy solution.
Directions For Storage: Store away from direct sunlight. 
Note: Be sure to keep inner plastic cap fully sealed to avoid evaporation.