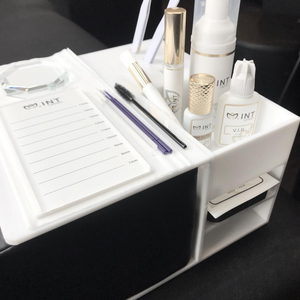 This acrylic lash shelf is a game changer. With our universal shelf you can either use it on your left or right!! Work with ease and comfort with everything at your fingertips. No more worrying about dropping your tweezers and you now have a place for all your supplies. Works well at clients head level with no fatigue.
This pillow & shelf fits most massage size tables roughly about 26 inches wide with the tray. With a removable cover, the shelf consist of one deep compartment to store your supplies and a shallow compartment on the other. When you're done for the day simply slide back the cover and place your clean tweezers in the tweezer holder in preparation for your next client.
The shelf is made out of strong acrylic for right handlers. We recommend using any disinfectant wipes to wipe it down and you can safely use acetone to clean off any unwanted adhesive that may come in contact with the shelf and it won't harm the plastic at all! 
Pillow and shelf sold separately. The M.INT logo is not visible as shown in the picture, it is engraved into the acrylic and will not be visible as this photo is for media purposes.
**Contents not included. Picture not exactly shown.