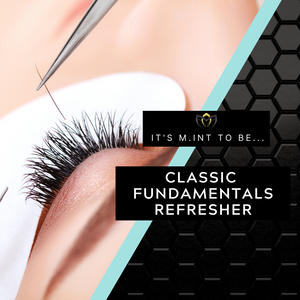 Have you taken a classic eyelash extension training course, but did not receive adequate training or maybe just want to advance your skills, or you just need a refresher course? This is the course for you! One Day is all you need, the refresher course is customized for individual needs. We will be going over common errors and retention problems, help you with troubleshooting errors from isolation tips to client retention, and everything in between!


Certified students will gain invaluable experience, polished lash skills, and the confidence they need to further build their lash career. Even after recertification, M.INT students will receive lifetime discounts on products and supplies, and continued support from our community.

Online Theory Hours - 4 Hours
In Class Hours - 6 Hours
Prerequisite - Must have Classic Certification to take the recertification course. Proof is required to schedule your course.
Certification - Certified Classic Eyelash Extension Technician 
In our NALA accredited course, we review:
Eye functions and lash growth

Reactions and how to tell if your client is allergic

Safety, sanitation and health inspections

Your lash space, ergonomics and how to care for yourself

Lash Extension Application

Lash Extension Removal

Advanced lash techniques

Advanced styling

Retention

Up to date information 

Business building

And more
You will receive:

M.INT Lashes Classic Fundamentals Online Manual

All products are supplied by M.INT Lashes - Classic Kit

Lifetime mentor-ship

Entry to our Graduates community

20% off all M.INT Lash Products
This one day course takes you through the manual presentation with a M.INT educator, it includes hands on demos and videos. You will work on your model for the rest of the afternoon.
Your educator will be there for you every step of the way!

Are you ready to become M.INT?