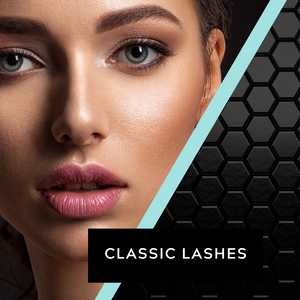 DO NOT ADD THIS TO YOUR CART. CLICK BOOK NOW TO BOOK YOUR NEXT APPOINTMENT.
A classic lash application means that 80-90% of your natural lash receives one lash extension. The look and effect of the set will depend on your natural lash line and your natural lashes' length. Eyelash extensions can last 2-3 weeks depending on your natural lash cycle
A set of classic eyelash extensions is perfect for those who:
Want to achieve the mascara look without having to apply mascara daily
Want something natural but still noticeable
Have a lot of natural lashes
Are new to lashes and don't want something too dramatic
*Foreign Fills is based on the discretion of our lash experts and are subject to an additional $20 service charge as the work may not be up to our standards.

Fills are to be scheduled max every 3 weeks and must have at least 50% of your extensions remaining in order to be considered a fill.
CANCELLATION / NO SHOW POLICY 

To expedite our services more efficiently, we require full payment of the service. Your service will be approved once payment has been fulfilled and your appointment will be booked accordingly.

We require 24 hours' notice for the cancellation or rescheduling of your appointment.
This ensures that we can make appropriate arrangements to re-book your appointment and to give other clients the opportunity to fill the cancelled space.

Failure to provide appropriate notice will result in a cancellation and/or no-show fee of $25 due within 24-hours of the appointment.  

Thank you for your understanding and cooperation.